WENDY AND TOM DINE OUT
This neighborhood restaurant has a lot of charm and class! One room is a glassed in area with tiny lights of yellow, orange, and blue intertwined. The walls of the other two dining areas are persimmon colored. The dining areas are separated by intricate stained glass panels. Recessed lighting is used to complement the pictures on the walls. White table cloths look particularly nice as they contrast the darker toned walls. The food presentation here is attractive and adds to the nice tone of the dining experience. There is a bar with a lively "Happy Hour" and the bar menu is served outside on small sidewalk tables.
The menu below only lists the dinner specials. There is a large selection of other entrees on the regular dinner menu.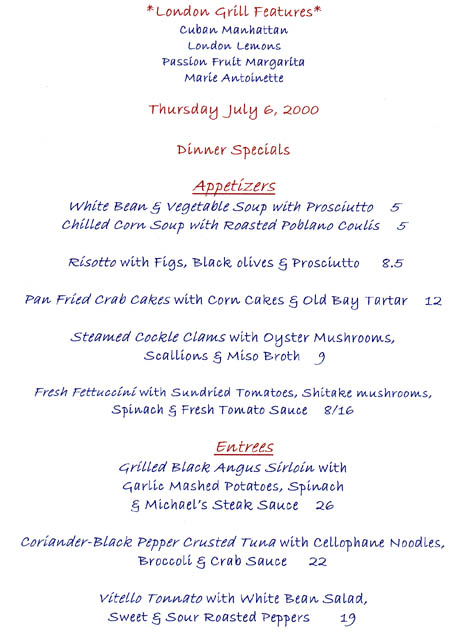 | | |
| --- | --- |
| RESTAURANT: | LONDON GRILL |
| | 2301 Fairmount Avenue , Philadelphia, PA |
| DATE: | July 6, 2000 |
| MEAL: | Dinner |
| BREAD: | Foccacio - interesting |
| | |
| SALAD: | |
| APPETIZER: | |
| | |
| ENTREE: | Grilled Black Angus Sirloin with Garlic Mashed Potatoes, Spinach and Michael's Steak Sauce (served on the side)($26.00) Very Nice. The Spinach was particularly good. The steak was prepared as requested and was reasonably tender. |
| | Vitello Tonnato with White Bean Salad, Sweet and Sour Roasted Potatoes ($19.00) Good. Nicely presented, but a bit bland. |
| | |
| DESSERT: | Creme Brulee - A nice caramelized crust |
| OTHER: | Although there were people dressed very casually, "business attire" might be more suitable. |
| | Parking on the streets nearby |
| | |
| | |
| OVERALL: | A- |
| | We would definitely dine here again. It has an atmosphere that we like and everything is attractively done. The menu has unique items that are fun to sample. |
| | |
| | |
Back To Restaurant Index