WENDY AND TOM DINE OUT
We had been to another Seafood Sam's on the Cape and were not impressed with the food. We were reluctant to try this one, but are glad that we did. It was Mother's Day and the restaurant was offering a flower to each Mom, a nice touch. The food proved to be to our liking and the whole experience was positive. The restaurant is light and airy and sparkling clean. Even the restrooms were well maintained. Although there was quite a line to place our order at the counter, we were taken care of quickly. To keep us informed of when our lunch would arrive, we were given a pager in the shape of a lobster. Wendy thought this was an exceptionally cute touch! The food arrived quickly too and was hot and tasty. We can see why the Cape Cod newspapers voted the restaurant #1 in the Regional Seafood category in 2005 - 2006.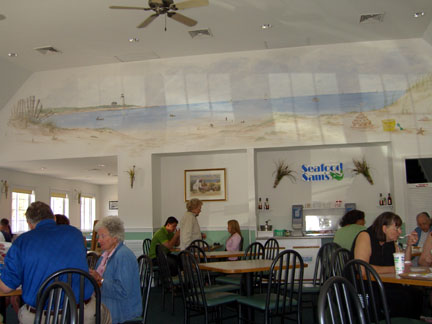 RESTAURANT:

SEAFOOD SAM'S

1006 Route 28, So. Yarmouth, MA

DATE:

May 2007

MEAL:

Lunch

DECOR:

BREAD:

SALAD:

APPETIZER:

Cup of Clam chowder ($2.95) - Very good, loaded with clams and not overwhelmed with potatoes

ENTREE:

Fried Seafood Plate for 1 ($14.50) Excellent - a slightly sweet batter, plenty of clams, scallops, fish, shrimp and not overloaded with French Fries

Side order of Haddock ($4.60) Excellent - two large pieces nicely fried in a light batter

DESSERT:

OTHER:

Plenty of parking

Dress is casual

Luncheon Specials from 11:00AM - 4:00PM

Call ahead for Take-Out

OVERALL:

A

This is a quick, informal restaurant that does what it sets out to do, provide good food. We will return here next time we are in the area.
Back To Restaurant Index